Ladies and Gentleman, here it is, something I have been doing loudly and drunkenly for quite some time now...
21 Reasons Why Paul O'Neill is the Fucking Man.
21) LaTroy Hawkins got booed off of the Yankees for even trying to wear the great number 21
20)He survived in the Reds organization under closet-Nazi Marge Schott (there ya go Skye)
19)He was the only player to be on the winning team in three perfect games.
18)He was on the motherfucking 114 win 1998 New York Yankees, one of the greatest teams to ever grace the field.
17)He shits on Michael Kay constantly.
16) Paul O'Neill destroyed thousands of dollars worth of water coolers in baseball organizations across America, and never heard a word about it.
15) Named an All-Star 5 times, Major League Baseball openly admits it should have chosen him every year
of his career.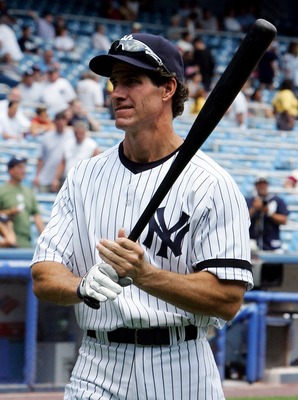 14) He still gets a standing ovation every time he makes an appearance at Yankee Stadium, and merely watching his highlights have caused women to become pregnant and men to openly weep with joy.
13) He won 5 World Series', granted only 4 were with the Yankees, but still, a 5 time World Series Champion.
12)He hit two home runs for a sick kid on Seinfeld, and may or may not have caught a fly ball in his hat the next game.
11)He's in the Irish-American Baseball Hall of Fame, at some rando bar in Manhattan, Paul O'Neill is a man of the people.
10)He served as the 72nd Secretary of the Treasury...it's true, check it
out.
9)2001 World Series-Game 5- Paul O'Neill received a standing ovation that lasted for the entire ninth inning, 57,545 people chanting his name.
8) 281 career home runs, 1,269 RBI's, each one of them clutch.
7) There's a photo of Paul O'Neill as a child with Roberto Clemente looking over his shoulder, nodding in approval of future greatness.
6)Wearing a Paul O'Neill jersey will literally earn you a night of free drinks at any Yankee oriented bar.
5)Paul O'Neill played Game 4 of the 1999 World Series right after his Dad died, Paul O'Neill is a fucking trooper.
4) Drew a walk to help set up Scott Brosius's three run home run in Game 3 of the 1998 World Series, even when someone else was hitting the home run, Paul O'Neill's presence on the basepath's made it that much better.
3)He helped win Game 6 of the 1996 World Series by running down Luis Polonia's deep fly ball, even though he'd been playing on injured legs all motherfucking season.
2)He once kicked a baseball to hold a baserunner on 3rd. Kicked it. From right field. Paul O'Neill kicked a fucking baseball from right field to 3rd to keep a baserunner from scoring. I would love to put the video up, but Major League Baseball has that shit on lock.
1)George M. Steinbrenner III, the man who hired a private detective to dig up dirt on Dave Winfield, criticized Derek Jeter, hired and fired Billy Martin 5 times and helped to change the game of baseball, personally gave Paul O'Neill the nickname "The Warrior". If that's not a motherfuckin' vote of confidence in a ballplayer, I don't know what is.
There it is folks, 21st blog post, 21 reasons why Paul O'Neill is the fucking man. Did more important things happen in the baseball world today? Probably, but not much more important than Paul O'Neill.